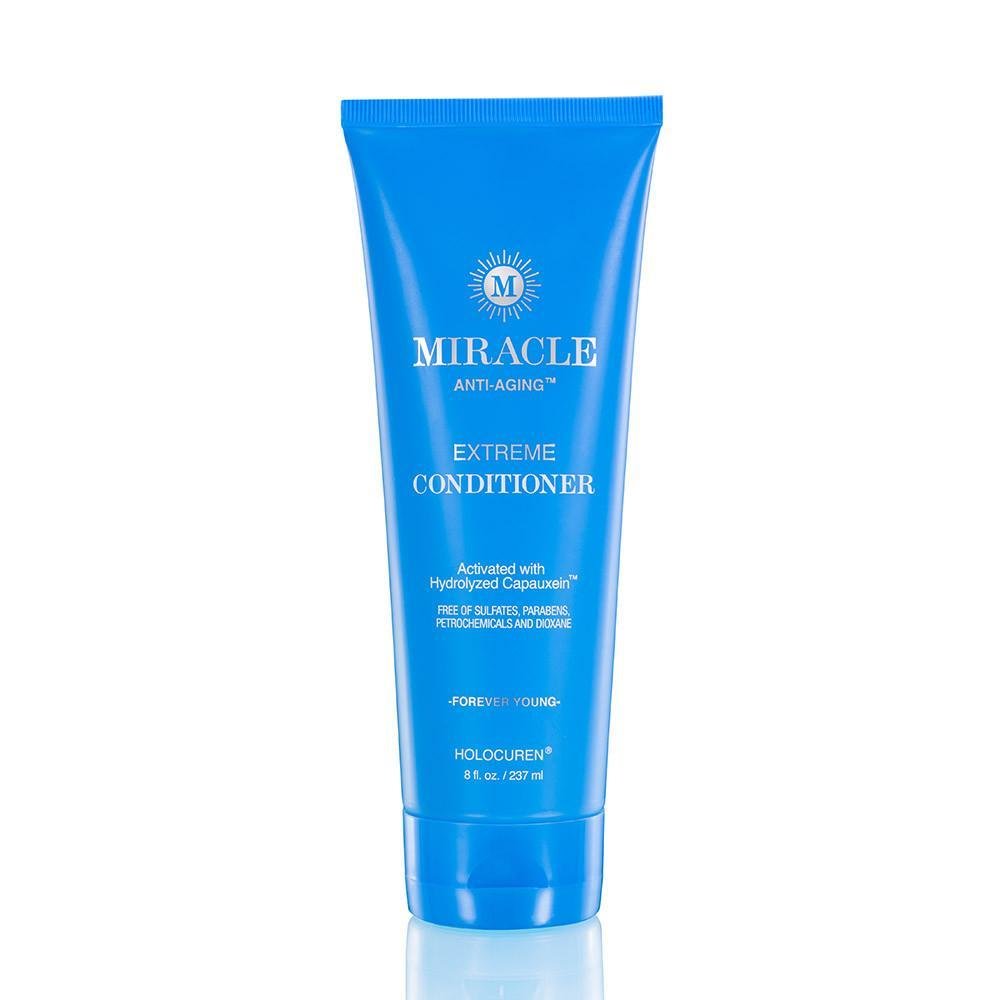 MIRACLE ANTI-AGING EXTREME CONDITIONER FOR DRY AND DAMAGED HAIR
SKU 00016
Product Details
Miracle Anti-Aging Extreme Conditioner, 8.0 fl. oz.
Miracle Anti-Aging Extreme Conditioner is a natural, age-defying salon formula that thoroughly conditions hair plus creates the optimal environment for hair follicle growth cycles. Contains a luxurious blend of liposomes, 12 Amino Acids and Vitamins E, C, A F and B5 and the breakthrough natural protein, Capauxein Extract, to stimulate hair repair at a molecular level. Capauxein is shown in studies to stimulate hair vitality, strengthen hair fiber, enhance follicle growth cycles through the expression of protein markers P63, Ki67 and phospho histone-3 which are linked to hair growth and hair follicle renewal.
New Miracle Anti-Aging Extreme Conditioner also contains a proprietary blend of Panthenol (Pro-Vitamin B5), Aloe Barbadensis Leaf Juice, Mentha Viridis (Spearmint) Leaf Oil, Lavandula Angustifolia (Lavender) Oil, Loquat Leaf Extract, (ORGANIC) Argan Oil, Ginseng Root and Arctium Majus Root Extract. See results after 14 days of use. No sulfates or parabens and free of dioxane and petrochemicals. No chemical fragrance either - just pure essential oils.
Directions For Use
Apply generous amount of conditioner to palms and rub palms together. Use more conditioner for longer and thicker hair. Massage vigorously into hair for 1-3 minutes and add a splash of water to evenly distribute if required. Leave on for at least 3-5 minutes for maximum conditioning. Rinse hair thoroughly massaging and running fingers through ends. Reapply a small amount and repeat procedure if additional conditioning is desired. Finish with Miracle Anti-Aging Hair Serum.
For fine/overprocessed hair, The Extreme Conditioner can be used in place of shampoo. (Say what? Yes, this is true!)
Miracle Extreme Conditioner Ingredients
Arctium Majus Root (Burdock Root) Extract: Improves blood circulation, decelerates hair loss, strengthens hair follicles and encourages healthy hair growth. Regulates sebaceous glands activity and has a normalizing and soothing effect on the scalp. Improves hair strength, shine, and body by helping maintain a healthy scalp and promote hair growth.

Orbignya Oleifera Seed (Babasu Nut) Oil: Babasu oil is pressed from the seeds of the Babasu palm tree nuts in the Amazon regions of South America. The oil has similar properties to coconut oil. Maintains hair moisture, protects against hair loss, scalp irritations including dandruff and maintains hair health. Babassu oil conditions the hair and restores its natural shine without weighing it down.
Crambe Abyssinica (Abyssinian) Seed Oil: An non-GMO plant oil that provides a natural luster and an emollient feeling to the hair. Light and non-greasy this oil conditions the hair repairing it from damage and split-ends.
Hydrolyzed Corn Protein (Capauxein) (Non-GMO): Boots hair regeneration and targets hair cellular adhesion, communication and hair elongation.
Hydrolyzed Soy Protein: Hydrolyzed Soy Protein increases the ability of the hair to bind moisture and specifically improves the tensile strength of hair. Enhances hair manageability, improves the body and texture of hair, improves feel and dry comb properties, contains cystine for hair strenthening and nourishment.
Loquat (Eriobotrya japonica) Leaf Extract: Studies show that the loquat leaf extract and corosolic acid relates to hair growth by regulation of several growth factors in dermal papilla cells. Loquar is a proven hair growth stimulator.
Argania Spinosa Kernal (ORGANIC Argan) Oil: Repairs, softens and strengthens dry, brittle, frizzy, overworked hair.
Aloe Barbadensis (Aloe Vera) Leaf Juice: Aloe Vera's alkalizing properties can help bring the scalp and hair's pH to a more desirable level, resulting in hair growth promotion, while helping the hair retain water and moisture. Also adds strength and luster to hair.
Panax Gingseng Root: Clinical Studies have shown Gingseng Root possesses hair growth activity and can be used to treat alopecia or used as a way to make hair grow faster. One study found that significant elongations of anagen phase during hair cycle after application of FPG were evaluated by photographical and histological observations.
Hydrolyzed Quinoa: Quinoa Protein offers a unique combination of molecular weight amino acids offering enhanced penetration for hair and skin nourishment along with film forming activity for greater repair, hydration, and shine. Hair will look smoother and feel silkier; it forms a protective barrier to protect the hair from environmental stresses, retains moisture in the hair, and provides nutrients to the hair. Unlike the rest of the proteins that will each offer protection, repair, or moisturization Quinoa Protein will offer all of these attributes through enhanced hair penetration and substantivity for increased damage repair and cuticle protection.
Lavendula Augustifolia (Lavender) Oil: Enhances blood circulation and has been shown to be effective in enhancing hair growth. Also treats dry-scalp and improves texture of hair.
PEG-50 Shea Butter: A water dispersible emollient that provides the softening and skin conditioning properties associated with shea butter. Provides a soft, conditioned feel to the hair.
Cetyl Alcohol: This is a fatty alcohol that is derived from coconut and palm oils. Far from drying, this alcohol is actually an emollient (makes hair softer).
Menthol: An active ingredient which clarifies; cleaning dirt, oil, and grease leaving hair clean and refreshed. Also has scalp-stimulating effects. Behentrimonium Chloride: A plant-based compound, made from colza oil obtained from the seeds of Brassica rapa, var. oleifera (oilseed turnip). Conditions, detangles, fights static, softens, restores, and rebuilds damaged hair.
Quaternium-91: A unique combination of conditioning agents found to soften hair, reduce combing damage and aid in the delivery of Vitamin E. Provides a variety of functional benefits that include exceptional softening and conditioning properties.
Polysorbate-60: A fatty alcohol and is actually good for your hair. It helps to moisturize the hair and may promote hair growth. Also works to reduce the surface tension of creams and liquids, which aids in the process of emulsifying.
Mentha Viridis (Spearmint) Leaf Oil: Oil derived from Spearmint which has been shown to be effective at stabilizing hair loss.
Cetrimonium Methosulfate: An ammonium salt, Cetrimonium Methosulfate provides thickening, softening, antistatic, antimicrobial, emulsifying and conditioning properties to the hair.

Polyquaternium-11: Made from cellulose (a natural polymer) adds thickness to the hair and also helps make hair easier to comb.
Vicia Faba (Broadbean) Seed Extract: The extract from the Broad Bean taken from its large, flattened light green pods, is essential for boosting hair renewal and maintaining hair growth.
Calcium Pantothenate: Also known as Pantothenic Acid (Vitamin B5) is an essential vitamin for hair growth and health. Helps to restructure the hair.
Behentrimonium Methosulfate: This scientifically sophisticated ingredient is renowned for its superior detangling ability, without causing build-up on the hair. Unlike other hair detanglers, which are known for their irritancy, behentrimonium methosulfate is extremely mild, being recommended for use in baby products which are left on the skin.
Biotin (Vitamin B7): Strengthens hair strands and prevents breakage. Biotin is known to do wonders to the hairshaft promoting healthier hair growth and overall hair condition.
Panthenol (Pro-Vitamin B5): A Clear viscous liquid that penetrates readily. Has good moisturizing & softening properties. Gives the hair moisture & shine and reduces split ends.
Niacinamide (VitaminB3): Conditions the hair and works to fight hair loss.
Stearamidopropyl Dimethylamine: A naturally derived surfactant, it gives slip to hair without causing excessive build up because it is water soluble unlike oils or silicone. It helps to smooth the cuticle and prevent static build up (flyaways!).
Cetearyl Alcohol: A Naturally derived alcohol which give a smooth, soft feeling to the hair shaft by helping the cuticle to lie flat on the surface of the hair.
Disodium Succinate: A disodium salt used as a surfactant (surfactants degrease and emulsify oils and fats and suspend soil, allowing them to be washed away).
Glycerin (Plant Derived): Improves moisture and smoothness to your hair. It provides lubrication and acts as a humectant.
PEG-12 Dimethicone: A polymer used as a conditioning agent and emulsifier to promote spreadability, and to add lubrication. Amodimethicone: Used for conditioning, and makes it easier for a comb to glide through the hair.
Zinc Gluconate: Zinc Gluconate is the zinc salt of gluconic acid. Works to prevent hair thinning and helps to limit hair loss. Citric Acid: Used to adjust the pH and to stabilize the formulation.

Methylchloroisothiazolinone: A compound which is antibacterial and antifungal to prevent bacteria formation.
Methylisothiazolinone: A compound which is antibacterial and antifungal to prevent bacteria formation.
Unique Blend Of Amino Acids: Hair protein is composed of linear amino acid chains. Amino acids work to rebuild the structure of the hair and help to prevent premature hair loss. Protects and repairs the hair follicle. Amino acids are essential for promoting healthy hair growth.
Citrulline
Arginine (L-Arginine)

Ornithine (L-Ornithine)
Tyrosine (L-Tyrosine)
Save this product for later