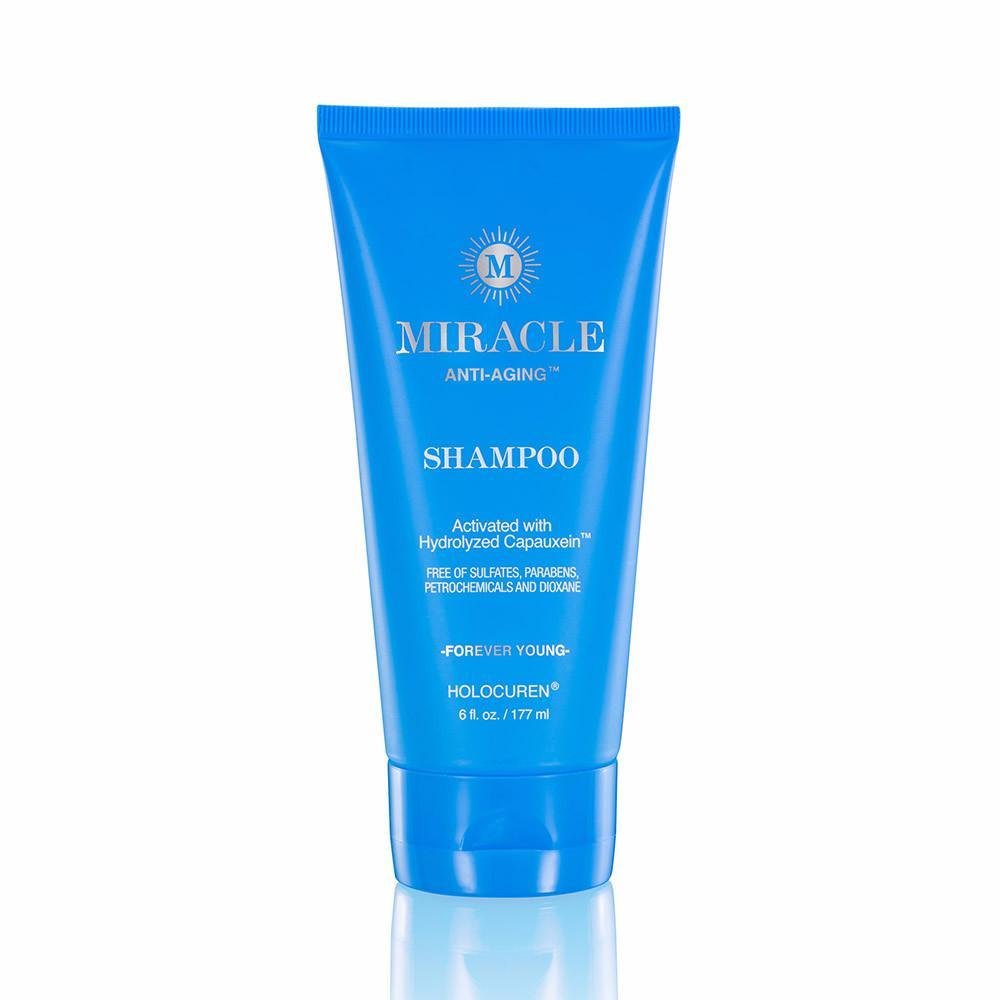 Miracle Anti-Aging Shampoo
SKU 00019
Product Details
Miracle Anti-Aging Shampoo is a natural, age-defying salon formula that thoroughly cleans and conditions hair plus creates the optimal environment for hair follicle growth cycles. Contains a luxurious blend of liposomes, 12 Amino Acids and Vitamins E, C, A F and B5 and the breakthrough natural protein, Capauxein Extract, to stimulate hair repair at a molecular level. Capauxein is shown in studies to stimulate hair vitality, strengthen hair fiber, enhance follicle growth cycles through the expression of protein markers P63, Ki67 and phospho histone-3 which are linked to hair growth and hair follicle renewal. New Miracle Anti-Aging Shampoo also contains a proprietary blend of Hydrolyzed Quinoa, Camellia Sinensis (White Tea) Leaf Extract, Superoxide Dismutase, Lecithin, ORGANIC Argan Oil, (Kukui Nut) Oil for conditioning, luster and shine. See results after 14 days of use. Free of Sulfates, parabens, petrochemicals and dioxane.
MIRACLE ANTI-AGING SHAMPOO INGREDIENTS
Hydrolyzed Quinoa: Quinoa Protein offers a unique combination of molecular weight amino acids offering enhanced penetration for hair and skin nourishment along with film forming activity for greater repair, hydration, and shine. Hair will look smoother and feel silkier; it forms a protective barrier to protect the hair from environmental stresses, retains moisture in the hair, and provides nutrients to the hair. Unlike the rest of the proteins that will each offer protection, repair, or moisturization Quinoa Protein will offer all of these attributes through enhanced hair penetration and substantivity for increased damage repair and cuticle protection.
Hydrolyzed Keratin: The true structural protein of hair. Penetrates the hair shaft to rebuild damaged hair and give it increased body . Keratin coats each individual strand of hair to strengthen and protect.
Helianthus Annuss (Sunflower) Seed Extract: Adds shine, luster and protects from harmful UV Rays. Possesses strong activity against free radicals, prolonging the color of color-treated hair.
Bee Propolis Extract: Promotes hair growth and treats damaged hair.
Argania Spinosa Kernal (Organic Argan Oil): Repairs, softens and strengthens dry, brittle, frizzy, overworked hair.
Aleurites Moluccana Seed (Kukui Nut) Oil: Strengthens the hair and provides superior shine and elasticity. Kukui Nut Oil penetrates the follicles without adding weight.
Hydrolyzed Vegetable Protein (pg-Propyl Silanetriol): coats porous and damaged areas to strengthen and mend hair fiber. Mentha Viridis Leaf Oil (Spearmint): Oil derived from Spearmint which has been shown to be effective at stabilizing hair loss.
Lavendula Augustifolia (Lavender) Oil: Enhances blood circulation and has been shown to be effective in enhancing hair growth. Also treats dry-scalp and improves texture of hair.
Hydrolyzed Corn Protein (Capauxein) (Non-GMO): Boosts hair regeneration and targets hair cellular adhesion, communication and hair elongation. 1
Anti-Aging Hair Shampoo continued
Melaleuca Alternifolia (Tea Tree) Leaf Oil: Helps remove build up on the hair shaft. Tea tree oil has the ability to normalize oily and dry hair, im- proving the pH balance and adding moisture or taking it away where necessary. Its antiseptic properties help unclog blocked hair
Aloe Barbadensis (Aloe Vera) Leaf Juice: Aloe Vera's alkalizing properties can help bring the scalp and hair's pH to a more desirable level, resulting in hair growth promotion, while helping the hair retain water and moisture. Also adds strength and luster to hair.
Guar Hydroxypropyltrimonium Chloride ( Plant Derived): A plant derived compound that provides conditioning and detangling properties. Panthenyl Ethyl Ether: An emollient, antistatic and conditioning agent.
Superoxide Dismutaste: A potent antiinflammatory agent used to prevent hair loss and provides a protective defense against hair graying, as shown in clinical studies.
Lecithin: Supports and enhances the required amount of protein for hair growth. Improves hair growth and enhances its texture making it strong and shiny.
Vaccinium Macrocapon (Organic Cranberry) Seed Juice: Used to enhance natural hair color. Provides conditioning benefits. Linoleic Acid (Vitamin F): A type of omega-6 fatty acid which stimulates hair growth and nourishes the hair.
Phospholipids: Promotes hair growth. Nourishes, moisturises, cleanses and conditions the hair.
Arginine (L-Arginine): An amino acid which is effective in promoting hair growth.
Aspartic Acide (L-Aspartic Acid): Acts as a humectant and promotes growth from the hair follicle.
Glycine (Naturally Derived): An amino acid which works as a hair conditioning agent.
Disodium Cocoamphodiacetate (Plant Derived): Derived from the fatty acids found in coconut oil, this surfactant works as a mild foaming agent, cleanser and hair conditioner. As a foam booster, it increases a solution's foaming capacity by increasing the surface viscosity of the liquid which surrounds the individual bubbles in a foam. It cleans the hair by enabling water to mix with oil and dirt particles, and rinse them off the surface. It's highly valued for cleansing the hair without stripping it of its natural oils.
Silicone Quaternium-8: Provides conditioning benefits and enhances foaming. It is non-irritant. 2
Anti-Aging Hair Shampoo continued
Panthenol (Pro Vitamin B5): A Clear viscous liquid that penetrates readily. Has good moisturizing & softening properties. Gives the hair moisture & shine and reduces spilt ends.
PPG-2 Hydroxyethyl Coco/Isostearamide: A Foam Booster; Surfactant - Solubilizing Agent. Used to increase viscosity. Cocamide DIPA (Sugar Derived): Acts as an emulsifier, a thickener, and as a foaming agent.
PEG-7 Glyceryl Cocoate: An emollient surfactant, foamer and conditioning compound.
PEG-16 Macadamia Glycerides: A water-soluble emollient derived from macadamia oil glycerides.
Eucalyptus Oil: Stimulates blood flow and increases hair growth. It revitalizes dull hair, treats dandruff, improves hair texture, and promotes hair elasticity and luster.
Glycerin (Plant Derived): Improves moisture and smoothness to your hair. It provides lubrication and acts as a humectant. Sodium PCA: Works to hold water in the hair shaft. It also adds shine and bounce to the hair.
Menthol: An active ingredient which clarifies; cleaning dirt, oil, and grease leaving hair clean and refreshed. Also has scalp-stimulating effects. Sodium Lactate: A natural humectant which draws in moisture to the hair shaft.
Sodium Lauroyl Methyl Isethionate: An extremely mild cleanser that can be used as a primary or secondary surfactant by creating a dense, luxurious foam and imparting an elegant after-feel.
Phytantriol: Helps to retain the moisture of the hair by reducing the loss of water from the hair. Lends gloss to dull and damaged hair, and increases the penetration of Panthenol and amino acids into the shaft of the hair.
Camellia Sinesis (White Tea) Leaf Extract: An antioxidant that helps safeguard against environmental damage and promotes the health and integrity of hair.
PEG-120 Methyl Glucose Dioleate (Corn Based Thickener): A water-soluble thickener derived from corn which also provides emulsifying properties. So that hair that was previously inhibited can grow again. Also helps increase circulation at the scalp surface, which stimulates hair folliclesand hair growth. Removes dead skin cells and other impurities that may be inhibiting healthy hair growth.
Citric Acid (Naturally Derived): Used to adjust the pH and to stabilize the formulation.
Tocopheryl Acetate (Vitamin E Acetate): Gives life to dull and limp hair for a fuller and lustrous hair growth.
Retinyl Palmitate (Vitamin A Palmitate)~(Sub CA Prop 65 Level): Enhances the appearance and feel of hair: it increases suppleness, sheen and body. It improves the texture of hair that has been physically or chemically damaged.
Cocamidopropyl betaine (Plant Derived): an organic compound derived from coconut oil that is used as an emulsifying agent and thickener. It also serves as an antistatic agent in hair conditioners.
Disodium Laureth Sulfosuccinate: A gentle cleansing agent found in hair care products. It also has good resistance to hard water, medium foaming ability, easiness of rinsing, good smoothness and biodegradation. It leaves hair clean and shiny.
Sodium C14-16 Olephin Sulfoccinate: A mixture of long chain sulfonate salts prepared bysulfonation of C14-16 alpha olefins. Sodium C14-16 Olephin Sulfoccinate is derived from coconut and used as a cleansing agent.
PEG-150 Pentaerythrityl Tetrastearate: A complex, high molecular weight ester designed as a premium performance thickener for aqueous detergent systems.
PEG-6 Caprylic /Capric Glycerides: is a blend of solubilizing agents that is used to carry the natural oils into a water-based system (such as your bath/shower).
Methylchloroisothiazolinone: A compound which is antibacterial and antifungal to prevent bacteria formation.
Ascoryl Palmitate (Vitamin C Palmitate): An effective anti-oxidant which protects the hair from free radicals. 4
Anti-Aging Hair Shampoo continued
Methylisothiazolinone: A compound which is antibacterial and antifungal to prevent bacteria formation.
Unique Blend Of Amino Acids:
Hair protein is composed of linear amino acid chains. Amino acids work to rebuild the structure of the hair and help to prevent premature hair loss. Protects and repairs the hair follicle. Amino acids are essential for promoting healthy hair growth.
Proline (L-Proline)
Threonine (L-Threonine) Isoleucine (L-Isoleucine)
Serine (L-Serine):
Valine (L-Valine)
Phenylalanine (L-Phenylalanine) Alanine (L-Alanine)
Histidine (L-Histidine)
Save this product for later