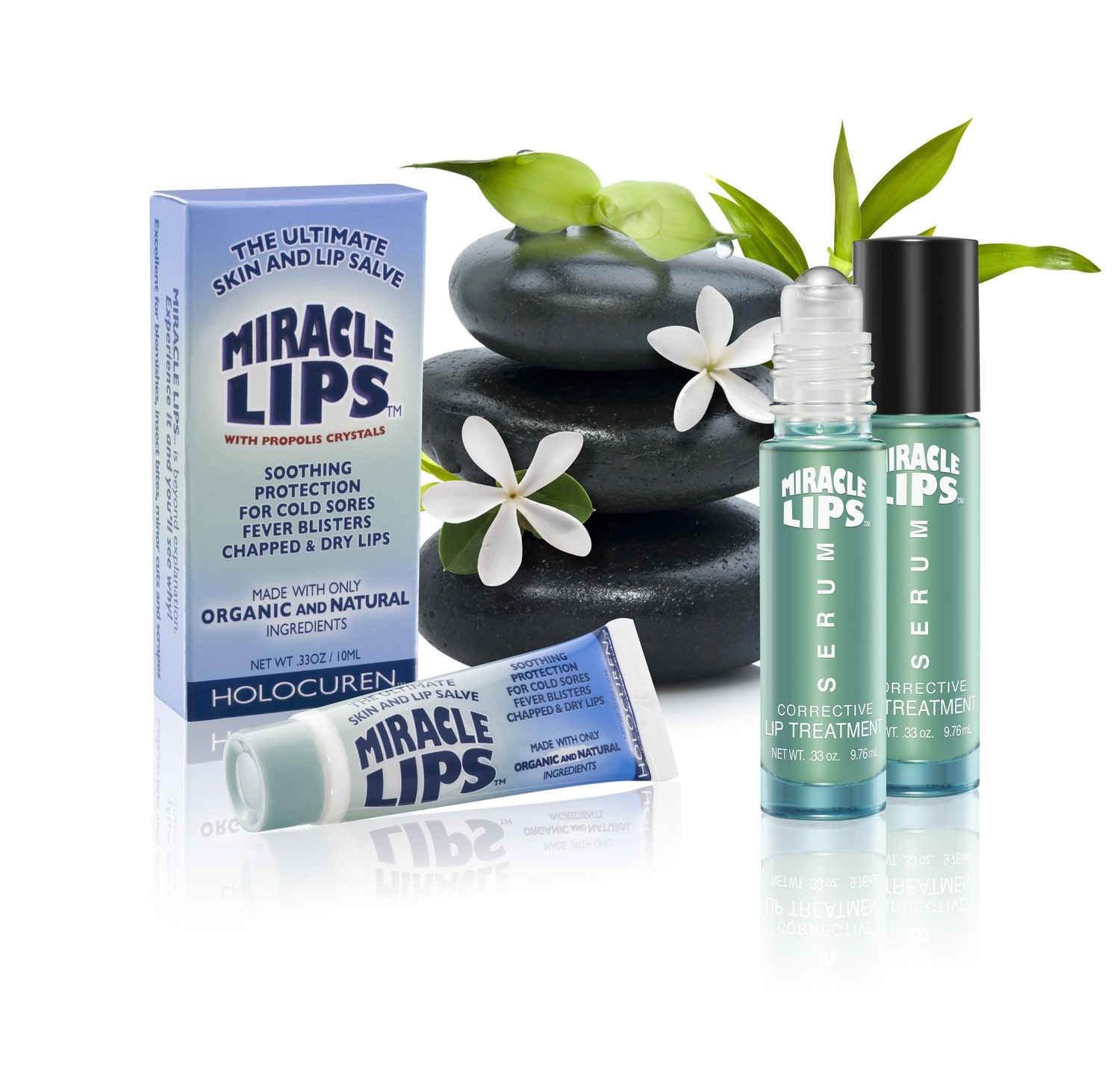 Miracle Lips Salve And Serum Combo Pack For Chapped Lips and Cold Sores
SKU 00000
Product Details
1 Miracle Lips Salve (.33 oz) and 1 Miracle Lips Serum (.33oz).

Miracle Lips is a lip corrective treatment available in two highly effective and popular applications: a salve in a tbe and a serum in a glass vial with roller ball applications(pic shows Miracle Lips serum with cap on, and cap off, exposing stainless steel roller ball.)
Miracle Lips is for chapped, dry lips and cold sores and contains high concentrations of bee propolis and tea treel oil and supporting ingredients to create a hostile environment for bacterial and viral invaders, and naturally speeds up the cellular turnover of cells, giving lips a healthy pink glow, while stimulating exfoliation.
Miracle Lips does NOT contain ANY kind of wax — including bee's wax.
– Doctor recommended.
– One of the only cold sore salves formulated for daily use.
– Anti-viral, anti-bacterial, anti-fungal, anti-inflammatory — you can even use it on cuts and scrapes on the skin !
– Costs less and works better than Abreva.
– Immune boosting formula.
– Immobilizes infections and accelerates healing.
– Increases cellular turnover.
– Penetrates deep at a cellular level to even reverse sun damage on the lips.
These products do NOT contain any additional sunscreen other than natural ingredients with natural sunscreen properties. Miracle Lips products are lip treatment products designed to be used indoors or overnight.
Miracle Lips Salve: Maximum strength high quality Brazilian Bee Propolis and maximum strength high quality Australian Melaleuca Tea Tree Oil combine with 25 butters, vitamins, peptides and enzymes in this UNIQUE, NO WAX formula, which is anti-inflammatory, anti-viral, anti-fungal and anti-bacterial. It penetrates at a cellular level, has over 27 anti-oxidants and bioflavonoids and can actually REVERSE sun damage.
Miracle Lips salve and serum increase cellular turnover in the lips -- it hydrates, exfoliates and medicates with all natural tea tree oil and bee propolis and also penetrates deep into the cellular level. If you want your lips to look super healthy and pink, this will do it. If you have lip issues -- dry lips, cracked lips, chapped lips, and COLD SORES, this product will help.
This is an ointment consistency in a tube that mildly exfoliates and moisturizes. Natural ingredients penetrate to a cellular level due to the absence of any kind of petroleum or wax in the this product, including bee's wax.
Pictures show the reduction of a cold sore IN FOUR DAYS of using Miracle Lips after feeling the tingling coming on-- come on, that is FREAKING AMAZING!
So if you get cold sores, you need to try Miracle Lips salve or serum -- it also can be used daily, unlike products like ABREVA and is cheaper than Abreva too. These are all natural and organic ingredients in this salve -- salve can even be applied to blemishes, insect bites and minor cuts and scrapes on skin due to it being anti-viral, anti-fungal, anti-bacterial and also anti-inflammatory.
Miracle Lips Salve Ingredients -- all natural and organic
Shea Butter Extract (Butyrospermum Parkii), Raspberry Butter, Cranberry Butter, Brazilian Propolis Extract, Tea Tree Leaf Oil (Malaleuca Alternifolia), Org Aloe Vera (Aloe Barbadensis), Sunflower Oil (Helianthus Annus), Carnuauba (Copernicia Ceriferera), Zinc Sulfate, Grape Seed Oil (Vitis Vinifera), Cranberry Fruit Extract (Vaccinium Macrocarpon), Cocoa Seed Butter (The Obroma Cacao), Elder Flower (Sambucus Nigra), Vitamin B2 (Riboflavin), Avocado Oil (Persea Gratissima), Niacin (Nicotinic Acid), Chapparel Extract (Larrea Divaricata), Golden Seal Extract (Hydrastis
Canadensis), Witch Hazel (Hamamelsis Virginiana), Licorice Extract (Glycyrrhiza Glabra), Myrrh Extract (Commiphora Myrrha), Shea Butter Fruit (Butyrodspermum Parkii), Boric Acid, Vitamin B7 (Biotin Seed), Menthol, Camphor, Vitamin E (Tocopheryl Acetate), Vitamin C (Ascorbyl Palmitate), Vitamin A (Retinyl Palmitate), vitamin D3 (Cholecalciferol), Lichen Extract
Miracle Lips Testimonials_Anti-Aging Analyst
Miracle Lips Serum in Roll-On Glass Bottle (.33oz)
(Sold individually for $18.99).
Miracle Lips Serum has the same great ingredients as Miracle Lips salve, but in a convenient roll-on applicator in a glass bottle.
It is free from dyes, preservatives, parabens, petrochemicals and artificial flavorings / fragrances. This means it tastes looks and feels exactly like the healthy ingredients in it; fresh, light, and organic.
Miracle Lips Serum is a blend of over 25 natural and organic vitamins, butters, enzymes and peptides. This non-wax application penetrates the surface skin to the cellular level for lasting change. Brazilian Bee Propolis, a bioflavonoid full of essential minerals is known as a "miracle cure" for chapped, dry lips. Use daily for moisturizing and hydrating and as an all night treatment. Rapidly exfoliates dry, dead or infected skin for soothing protection and healing. Sleek glass container and stainless steel roller ball.
Unlike many lip products, Miracle Lips does not contain petrolatum wax or bee's wax. Wax is a barrier that prevents ingredient penetration, as well as the natural lip exfoliation process, thereby sealing in bacteria that can cause infection and chapped lips. Miracle Lips' ingredients are scientifically designed to deeply penetrate and contain high percentages of pure, high quality Brazilian bee propolis and high quality Australian Melaleuca Tea Tree Oil, as well as natural and organic butters, enzymes, peptides and vitamins that moisturize the lip tissue. Both the serum and salve penetrate, hydrate, exfoliate and naturally medicate with maximum strength Propolis and Tea Tree Oil in a rich butter, vitamin and enzyme base. Its non-waxy formula is made for people with dry or chapped lips, and chronic lip or skin problems. Miracle Lips products are anti-bacterial, anti-viral, anti-fungal, and anti-inflammatory, preventing cold sores by resisting infection. Miracle Lips is not a coating.
Miracle Lips is specifically designed to work at a molecular level to enhance and stimulate the metabolic processes of lip function to energize healthy, vibrant new skin, increase cellular turnover and actually change the lips by enhancing their cellular performance to prevent and heal chapped, dry lips, rashes and cracks around the mouth, and chronic cold sores and fever blisters.
Miracle Lips Serum is a silky, glossy liquid which comes in a glass bottle with roll-on applicator. Miracle Lips Salve is a thicker "ointment" consistency and is used primarily for exfoliation, cold sores, and protection from the elements. Estheticians are enthused by the Propolis crystals in the Salve that gently exfoliate and melt into a creamy moisturizing butter in a one-step process and many spas incorporate Miracle Lips into their facials as well as in their retail stores.
"Miracle Lips is one of the most exciting products that I have ever worked with," says formulator Robert Heiman. "Since I was five years old, I have had a problem with dry and chapped lips. With the extraordinary combination of natural and organic phytochemical ingredients, Miracle Lips makes a difference in just one application."
These statements have not been evaluated by the Food and Drug Administration. This product is not intended to diagnose, treat, cure, or prevent any disease.

Save this product for later